Seaweek - Kaupapa Moana 2019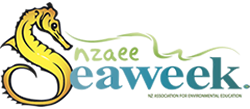 The NZAEE Seaweek theme for 2019 will be "Tiakina o Tātou Mōana - Care for our Seas", highlighting the impact of plastic, litter and other pollutants on our coasts and seas.
NZAEE Seaweek 2019 will take place from 2-10 March 2019.
Seaweek has started early!
The team at Experiencing Marine Reserves have so many events to fit into this year's programme they are already up and running with Snorkel Days in Auckland and Taranaki.
Make sure you check out the website's What's On pages for all the event news for your region.
If you'd like to get involved in Seaweek by organising an event, no matter how small, help is at hand- just let the National Coordinator know your plans by emailing Mels Barton on mels@subliminal.co.nz
Preparing for Seaweek Workshops
If you are in Auckland you can come along to one of two free workshops in November and find out all about the resources and support available to help you run an activity during Seaweek. Ideal for educators and event coordinators. You need to register before 9 November by completing the registration form.
There are 2 workshops, one in Takapuna on 14 November and one in Flat Bush on 15 November. 
Seaweek Ocean Champion
This year's Ocean Champion competition requires entrants to undertake a specific Ocean Challenge to help solve a problem in the marine environment.
Junior entrants (under 16) will all be entered into a prize draw for a selection of fantastic spot prizes.
Senior entrants will outline their challenge and voting will take place during February on the Seaweek website to choose the winner.
Entries open very soon and close on Friday 21 December 2018.
The winner will receive the equivalent of $500 from the New Zealand Coastal Society towards their work.