Powering Potential 2018 | Wellington
Wed 12 Dec
The students of Powering Potential are set to be the leading scientists and innovators of our future. Come and see how they collaborate and seek solutions for key issues facing our nation.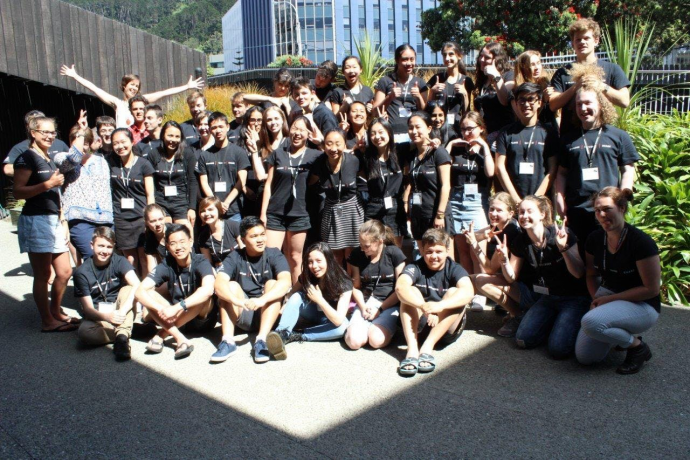 Students who participated in Powering Potential 2017
Witness the future of New Zealand - a group of our most promising secondary students tackling the issues of today.
Powering Potential brings together talented students with passion and skills for science and technology for a problem solving workshop. From Whāngārei to Gore, forty Year 12 and Year 13 students (who intend to study in these disciplines at a tertiary level) have been selected by an independent selection panel for this opportunity.
The workshop puts students into teams where they focus on a question/problem that has been presented to them by mentor, who is either a scientist, or a researcher studying for their PhD in science.
Teams are given 48 hours to concentrate on their issue. They will need to collaborate, research and brainstorm ideas to find innovative and relevant solutions. Each team is then expected to deliver a six minute presentation with visuals based around their findings and recommendations. 
Join us to support and listen to our accomplished Aotearoa rangatahi at their presentations, which will be followed by refreshments.
Powering Potential is a science education programme proudly supported by Royal Society Te Apārangi and Freemasons New Zealand.
Students selected for Powering Potential 2018
Northland
Huia Webby, Whangarei Girls' High School
North Shore
Alana Chhour, Rangitoto College
Central Auckland
Sophie Everitt, Baradene College
Mikaele Ymker, Baradene College
Alasdair Tremlett, Sacred Heart College
Sarah Poulter, St Mary's College
Aimee Lin, Marist College
Kacy Zhou, St Cuthbert's College
Shalin Shah, Mount Albert Grammar School
Shreya Nair, Epsom Girls' Grammar School
East Auckland
Anagh Mane, Botany Downs Secondary School
South Auckland
Michael French, Onehunga High School
Keegan James, Pakuranga College
Waikato
Nu'umoe Duffy, Cambridge High School
Maayan Levy, Hillcrest High School
Bay of Plenty
Jonathan Tomlinson, Mount Maunganui College
Amy Bewsher, Aquinas College
Kalman Wadsworth, Otumoetai College
Natasha Barnett, Tauranga Girls' College
Jaehee Chun, Bethlehem College
Linette Lengkeek, Trident High School,
Ashleigh Ngow, Te Puke High School

Hawke's Bay
Magnus Larbi, Napier Boys' High School
Taranaki
Tamsin van Bergen, New Plymouth Girls' High School
Breanna Camden, New Plymouth Girls' High School
Yani Remoto, Hawera High School
Faith Araba, Hawera High School
Manawatū
Lauren Gadd, Freyberg High School
Wellington
Sofie Claridge, Kapiti College
Marlborough
Samuel Lee, Marlborough Boys' College
Nelson
Liam Domett-Potts, Nelson College
Thomas Peterson, Nelson College
Canterbury
Jessica Tater, Cashmere High School
Sophie Deam, Papanui High School
Diana Barbu, Ashburton College
Otago
Ella Creagh, Dunstan High School, (Central Otago)
Finn McKinlay, Logan Park High School
Liam Hewson, King's High School
Corey Symon, King's High School
Southland
Jorgee Robb, Gore High School
SPEAKER
Powering Potential 2018 students
ORGANISATION
Royal Society Te Apārangi
VENUE/DATE
Royal Society Te Apārangi, Aronui Lecture Theatre, 11 Turnbull Street, Thorndon, Wellington, Wellington 6011
5:30pm Wed 12 December, 2018 - 7:30pm Wed 12 December, 2018
---